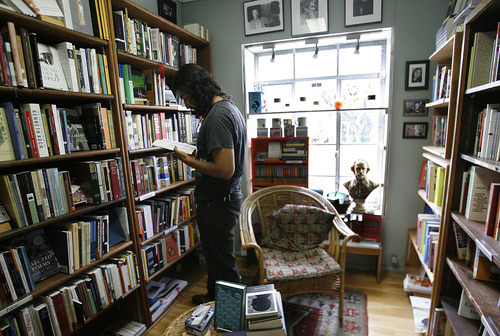 In Britain,
the poet laureate has launched a campaign to celebrate independent booksellers in verse.
Here's a sample:
G. & A. Bowden by Alan Jenkins
The window-display's a window
In G. & A. Bowden, Bookshop.
A note says the owner's a widow
And the bookselling had to stop,
The book-buying and the catalogues
And the salesmen who dropped by.
The business side went to the dogs.
The stock went to Hay-on-Wye
And bare boards shine where I'd rehearse
One of my adolescent selves,
'A strange child with a taste for verse',
Sheepishly, among the shelves
Of Poetry … The knowing smile,
Tweed skirt and cardigan she wore,
The lady who owned it then! A style
That went with Art, post-war,
And Literature; her husband's pipe-smoke
Competing with the smell of paperbacks.
To me, it smelt of safety. Now I choke
On empty walls, the lack of stacks,
And everything that's gone with them
(It must be that). Not far away
The river ebbs and flows, the rhythm
That means life. Or so they say.