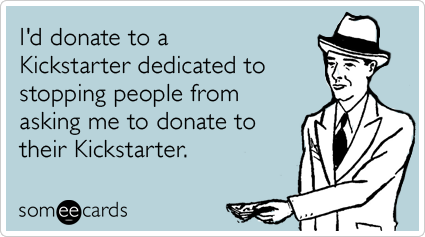 From The Guardian:
Four months after launching on Kickstarter
, a children's book that tells the stories of 100 inspiring women has raised more than $1m (£754,000), making it the biggest publishing project in the crowdfunding site's history. Almost 20,000 backers from 71 countries around the world have signed up to order
Rebel Girls, which introduces young readers to role models from the Brontë sisters to Serena Williams
.
Of course, Kickstarter doesn't get involved in the messy business of producing books – it's a platform that puts people who want to produce books in touch with others all over the world who want to support their projects. But if you put the 1,973 publishing pitches that were successfully funded in 2015 together with the 994 successful comic and graphic novel projects, then last year's tally of 2,967 literary projects puts the crowdfunding site up among publishing's "Big Four": Penguin Random House, Harper Collins, Hachette and Simon and Schuster. The latter, which is the smallest of the Big Four
according to Publishers Weekly
, publishes "over 2,000 titles annually".
Kickstarter's publishing "lead", Margot Atwell, wants to make it clear that the site "definitely doesn't supplant the role of editor, publicist or publisher" and is really "just one more tool an author or publisher can use to connect with readers and spread the word about their book". But writers all over the world are choosing this new route to publication in unprecedented numbers. The books and comics section has grown steadily since the site's launch in 2009, and accounts for around 13% of successful projects. In 2015, pledges totalled $35.2m and already in 2016 more than $20m has been pledged for more than 1,500 projects.