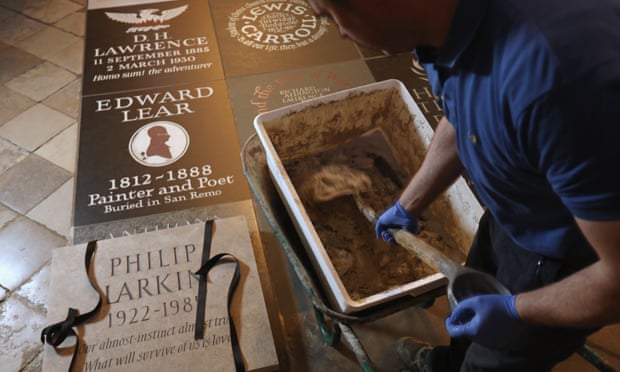 From The Guardian:
A memorial stone to the poet Philip Larkin, inscribed with lines from one of his most famous works – "our almost instinct almost true/What will survive of us is love" – will be unveiled in Westminster Abbey on Friday evening [December 2], the 31st anniversary of his death.
When Larkin attended the unveiling of a memorial to fellow poet WH Auden in 1974, he grumpily remarked in a letter to his mother: "Poets' Corner seems to be getting pretty crowded! No doubt there will be room for me."
Now, far from plot 81 in Cottingham municipal cemetery near Hull – where he was buried under a stone starkly inscribed with his name, dates, and the single word "writer" – his own memorial has finally been installed in the abbey.
The Purbeck limestone has been carved by Martin Jennings, who previously created a statue of the poet for his adopted home town of Hull. Jennings notes wryly that although Larkin has had to wait twice as long as Ted Hughes for a place in the abbey, because of the position of the stone his is an inch larger all round. "Maybe his spirit's had the last laugh," he said...
Henry Bemis Books' profile of Larkin is here.