Phyllis Dorothy James,
OBE, FRSA, FRSC (1920-2014)
Baroness James of Holland Park
Daughter of a tax inspector, Phyllis James was born in Oxford and educated in Cambridge, but only through high school. Her father disapproved of higher education for girls.
She worked in a tax office, and as a theater company assistant stage manager; at 21 she married an Army doctor. He survived the war, but with significant mental illness, eventually requiring institutionalization. James supported the family working in hospital administration until her husband died in 1964; she swotted for the civil service exams, got the third highest score in the land, and took a job in a criminal investigations section of the Home Office.
The Writer's Almanac reported, "She later remembered: "I've still got the pre-printed letter which says: 'Dear sir' and 'sir' is crossed out and 'Madam' has been written in by hand. It was so rare for women to take the exam."
James retired in 1979 and took up writing full-time Her first crime novel, featuring Scotland Yard inspector Adam Dalgliesh, was published in 1962; she was runner up for the Mystery Writers of America's top prize in 1971, 1973 and 1986. Her Dalgleish was created as James' alter ego, a brainy, by the book kind of detective: an antidote to the amateurs of the golden age of the 1930s like Poirot, Miss Marple and Lord Peter Wimsey. Her big break came with her eighth book, Innocent Blood, in 1980. Dalgleish became a fixture of American public television.
In 1991 James was granted a life peerage and sat on the Tory benches in the House of Lords; she worked as a local magistrate and served on important arts councils and as a governor of the BBC.
At 89, she guest hosted Radio 4's Today program; her searching interview of the network's director general, Mark Thompson, won her an award for broadcast journalism and calls to be a permanent host.
In her 90th year, James published a wildly popular pastiche of Pride and Prejudice, Death Comes to Pemberley. She remained active in public life to the end, joining a statement opposing Scottish independence shortly before she died in October 2014.
History has rebuked her father's narrow views: when she died, Baroness James held seven honorary university degrees and was an honorary fellow of five Oxford and Cambridge colleges.
In her 70s, James turned her hand to dystopian science fiction with The Children of Men. Henry has a first edition on offer, at the store website,
www.henrybemisbookseller.blogspot.com
, as the Book of the Day: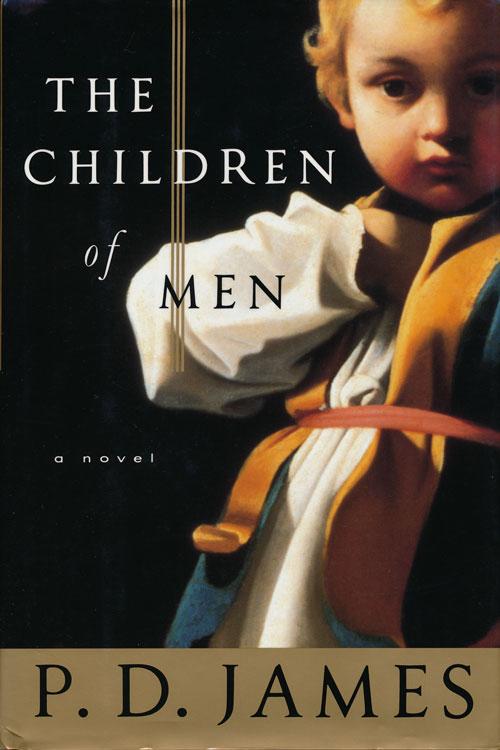 James, P.D.
, The Children of Men (Alfred A. Knopf, 1st American edition, 1993). ISBN 0-679-41873-3. Best known for her Adam Dalgliesh detective novels, James surprised and delighted readers when, at 73, she produced a dystopian sci fi novel in which all the men of England became infertile in 1995. in 2021 things were rapidly unraveling socially, and Oxford don Theodore Faron found himself drawn into the thick of the coming fray. Made into a 2006 film with Clive Owen. Hardcover, unclipped dustjacket, as new. 241 pp. HBB price: $100 obo.
___________________________
Henry Bemis Books is one man's attempt to bring more diversity and quality to a Charlotte-Mecklenburg market of devoted readers starved for choices. Our website is at
www.henrybemisbookseller.blogspot.com.
Henry Bemis Books is also happy to entertain reasonable offers on items in inventory; for pricing on this or others items, kindly private message us. Shipping is always free to US locations; local buyers are welcome to drop by and pick up their purchases at our location off Peachtree Road in Northwest Charlotte if they like.
We accept electronic payments via Facebook Messenger, powered by Stripe.
We regret that until California Assembly Bill 1570 (2016) is struck down by court order or amended to relieve out of state booksellers from its recordkeeping and liability burdens, we are unable to do business with California residents.
We offer 25% off to fellow dealers.
What's your favorite social media outlet? We're blogging at
www.henrybemisbookseller.blogspot.
com.
We tweet as Henry Bemis Books. Have you liked us on Facebook yet? Henry Bemis Books is there, too. And Google+!
You can also see Henry's alter ego, Lindsay Thompson, on a three weekly Facebook Live programs: Rare Book Cafe, a 2:30-3:30 pm EDT Saturday panel show about books; Book Week- Rare Book Cafe's weekly Thursday noon news program (both on Rare Book Cafe's Facebook page); and Gallimaufry, an occasional program about literary history on Henry Bemis Books' Facebook page.
#RareBooks #HenryBemisBooks #PDJames #AdamDalgliesh #The ChildrenofMen