Mario Gianluigi Puzo, one of twelve born to immigrants from Campania, was an improbable literary genius who saw his books completed swallowed by their movies.
He served as a military PT man after World War II, wrote mafia stories for magazines like True Action, Swank, and Male, and at 45 was a government clerk with a family and kids and two unsuccessful novels.
He cobbled together bits of dialogue from his family and the New York Streets, and anecdotes from his magazine days, and outlined a novel about a Dostoevskian crime family, The Godfather. A publisher took it unwritten. Puzo, an unknown author, got a $5,000 advance; by the time the paperback and movie rights were sold, he was a millionaire.
The book was a bestseller for months and its Hemingwayesque style seized the popular imagination. Phrases from it are in common use today.
Uncommonly for a writer, Puzo segued easily into screenwriting and produced all three Godfather scripts. He did two Superman scripts, and, departing from his usual line of turf, that of The Cotton Club.
Late in life, Puzo went back to the well twice more, leaving behind two more Godfather novels. The were published posthumously, and the critics savaged them.
They sold well anyway.
Today is Mario Puzo's 97th birthday.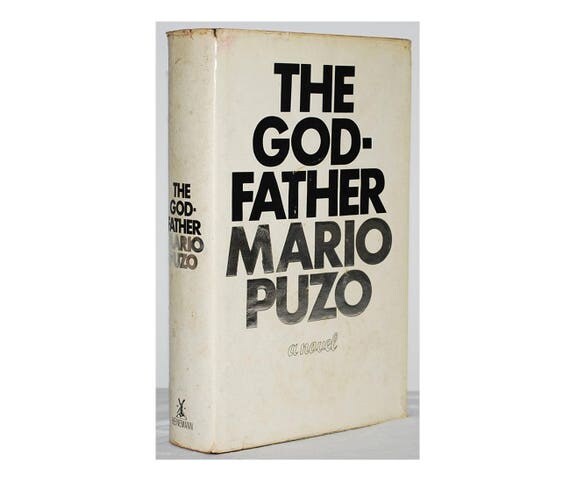 Puzo, Mario
, The Godfather (London: Heinemann, 1st ed, 3rd printing, 1969). ISBN 434-60491-7. Hardcover, unclipped dust jacket. Slight wear around dust jacket edges, otherwise in very good condition. Octavo, 446 pp. HBB price: $150 obo.
Henry Bemis Books is one man's attempt to bring more diversity and quality to a Charlotte-Mecklenburg market of devoted readers starved for choices. Our website is at www.henrybemisbookseller.blogspot.com. Henry Bemis Books is also happy to entertain reasonable offers on items in inventory; for pricing on this or others items, kindly private message us. Shipping is always free to US locations; local buyers are welcome to drop by and pick up their purchases at our location off Peachtree Road in Northwest Charlotte if they like.
We accept electronic payments via Facebook Messenger, powered by Stripe.
We offer 25% off to fellow dealers.
What's your favorite social media outlet? We're blogging at www.henrybemisbookseller.blogspot. com. We tweet as Henry Bemis Books. Have you liked us on Facebook yet? Henry Bemis Books is there, too. And Google+!
You can also see Henry's alter ego, Lindsay Thompson, on a three weekly Facebook Live programs: Rare Book Cafe, a 2:30-3:30 pm EDT Saturday panel show about books; Book Week- Rare Book Cafe's weekly Thursday noon news program (both on Rare Book Cafe's Facebook page); and Gallimaufry, an occasional program about literary history on Henry Bemis Books' Facebook page.
#MarioPuzpp #TheGodfather #FirstEditions #HenryBemisBooks #Charlotte